About Us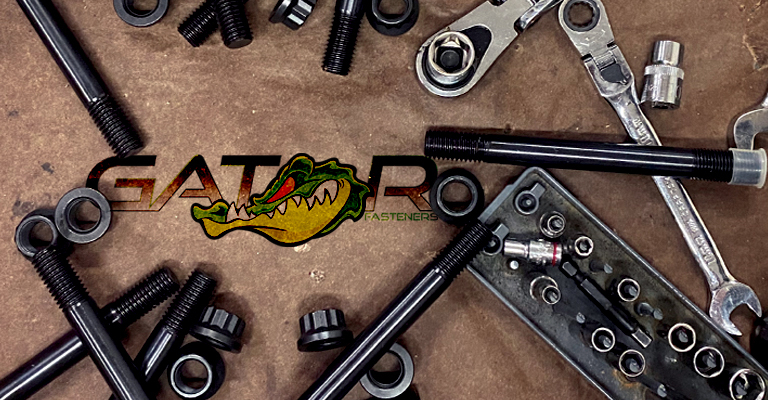 Our Vision
---
Our company is committed to an environment in which employees, customers and partners can communicate and collaborate on a mutual vision, and achieve breakthrough results.
Gator Fasteners have been selling since 2017. We started producing the Gator Fasteners because of the need in the market. We wanted to create a product line that did two things: first could go toe to toe with the best in the industry, and second create an aggressive margin for shop owners.
For the first couple of years we did a lot of market testing getting sets out to shops to get them on trucks. While this is not a money maker it does allow us to truly test them on trucks being used day in day out.  We are pleased to say that as of today on the 100+ trucks they are on we have not had any failures. (Knock on wood) We have a set on the PowerDown Diesel race truck that is pushing over 700hp. And are looking to launch a Gator Fastener Competition Series by the end of the year. PowerDown has been so pleased with them they have moved most of their customers to Gators. Because of Gator Fasteners success over the last several years we have been picked up by several online retailers including Rudy's. Daily Driven Performance, JeliBuilt and Full Force Diesel that have put their name behind us.
We also have made it easy for shops to become a Gator Fastener Dealer. The buy-in to be a dealer we ask you to buy any 4 sets of Gator Fastener. After that we ask you to spend a minimum of $2,000.00 over 12 month. In addition you are also grandfathered into dealer pricing on KTPerformance.net as well. This is just another add-on that helps shops out with other items that their customers may need.
Gator Fasteners are manufactured in a ISO/TS 16949 quality control factory. 
The material is a 8740 with an added proprietary element.
the threads are Rolled.
The 10mm studs test out at a Max Load: Over 120KN. 
Tensile Strength: Over 221K psi.